Home > Sustainability > Safety & Health Management
Safety & Health Management
SB Tech always strives to prevent accidents and improve its employees' health and quality of life by creating a safe and pleasant work environment. All employees and officers have established safety and health policies based on the following basic policies and execute the Safety & Health Management Systems for all activities.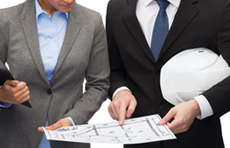 SB Tech Safety & Health Policies
SB Tech has settled a spontaneous safety control system for labor and
management based on the principles of safety-first management to create safe
and pleasant accident-free worksites.
1.Check details and predict risks daily to prevent unsafe acts that cause industrial accidents.
2.Identify potential risks to plan and execute safety and health management to reduce
industrial accidents
3.Stay ahead with the safety and health management systems based on risk evaluation
for the accident-free campaign.
4.Pay attention to managing the pleasance of work environment and individual health
based on the principle of respect for mankind.
5.Remember that individual safety is the health of family and the foundation for social
development and national prosperity and focus on creating an accident-free
industrial society.
Based on the above policies, all employees, officers, and workers strictly all regulations
and pursue sustainable improvement to be the top of the industry. February 1, 2011 CEO Jae Young Kim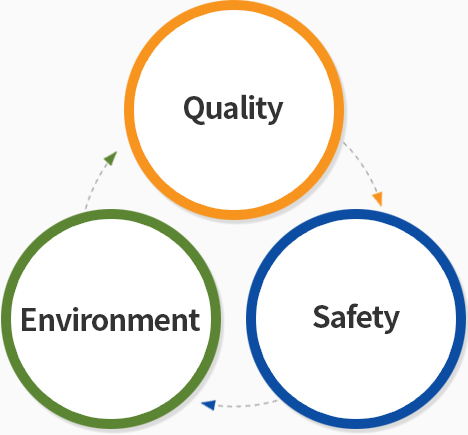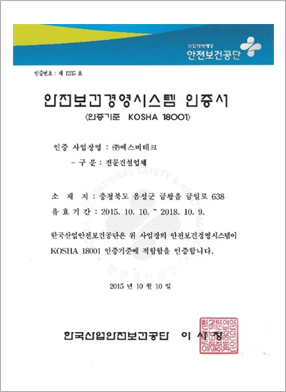 ㆍCertification Standard

KOSHA 18001
ㆍCertification Number

#1235
ㆍAccrediting agency

Korea Occupational Safety Health Agency
ㆍEffective term

2015.10.10 ~ 2018.10.09