Home > Sustainability > Quality Management
Quality Management
SB Tech has operated Quality and Safety Inspection Team regularly since 2014 to improve the quality of onsite construction and prevent defects. The Quality and Safety Inspection Team mostly consists of project managers and improves the quality of construction by correcting simple problems and defects and carefully inspecting and improving design errors, past defects, and causes of rework. By doing so, it enhances clients' trust.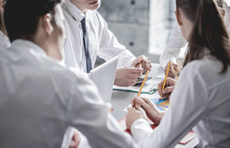 SB Tech Quality Policies
SB Tech executes the following to comply with customer
requirements and flourish into a mega-sized company
1. Customer satisfaction is our priority value.
2. Establish a quality goal and do our best to reach it.
3. Achieve No. 1 quality through continuous improvement.
Achieve top quality through sustainable improvement. All employees and officers must
understand the quality policies and goals to execute the policies and achieve the goals and
establish, maintain, and develop efficient quality management systems.

It is guaranteed that SB Tech's Quality Management Systems satisfy the requirements of
ISO9001 under the principles of "righteous management."

October 2, 2015
CEO Jae Young Kim
Operation of Quality Management Systems

ㆍCreation and revision of quality manuals
ㆍPlanning and execution of internal audits
ㆍRenewal and audits
ㆍManagement review and evaluation
Quality Prevention Activities and
Sustainable Improvement

ㆍSpecial quality inspection activities
ㆍQuality information website
ㆍSelection and awarding of quality excellence
ㆍCorrective and preventive actions
ㆍNonconformance and corrective actions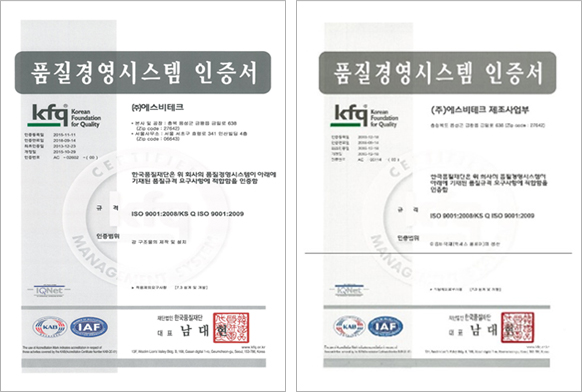 ㆍCertification Standard

KS Q ISO 9001:2009 / ISO 9001:2008
ㆍCertification Number

AC-02632 / AC-06114
ㆍCertification

Korea Quality Foundation
ㆍCertification limits

Production of double floors (Access Floors)
Fabrication and installation of steel structures
ㆍEffective term

2015.11.11 ~ 2018.09.14